The abundance of homegrown citrus fruits this time of year in Los Angeles is one of the main reasons I love being a Californian. See Meyer lemon trees in the front yard moan with yellow orbs. Pomelos and grapefruits frame the driveways and the incredibly laden trees of oranges regularly ensure a double grip. Being surrounded by so many citrus fruits is happy. Especially if you can get your hands on it. And I never did. The other day my father's neighbors generously dropped a huge crate of Meyers, mandarins, oranges and Eureka lemons – a legitimate "bend your knees" box. So here I am writing down the ways I've used it, saving it, and the citrus recipes I've been preparing all week.
One week in citrus
I thought I'd start by talking about everything I've done with citrus in the last week. It was a mix! I will include the recipes below for the pastes and syrups.
Kosho

: I started a batch of Meyer lemon kosho. Kosho is traditionally a fermented and spiced Japanese yuzu paste, but as lemons are more abundant here, I tend to use them.

Citrus peel paste

: I also mixed Meyer lemon peels, Eureka and orange in a series of quick (unfermented) pastas and frozen them in single-use quantities. I will write the recipes below. I use them to flavor and enhance everything! From pasta and soups to rice bowls and roasted vegetable tacos.
Most of the tangerines were simply peeled and put in the mouth, but a few made it into my favorite citrus salad (I'll highlight this below).

No-Heat Meyer Lemon & Rose Geranium Syrup

: I love the intensity of the no-heat syrups and I made a thick, intensely flavored Meyer lemon syrup by massaging lots of lemon zest with sugar and pink geranium leaves.

No-Heat Orange Syrup

: Same procedure as lemon syrup, but here preserved in orange peel. See the recipe below.

Citrus ice cubes

: After peeling the citrus fruits and making the pastes or syrups, all the juice was frozen in ice cube trays for future use in drinks, slushes, soups, etc.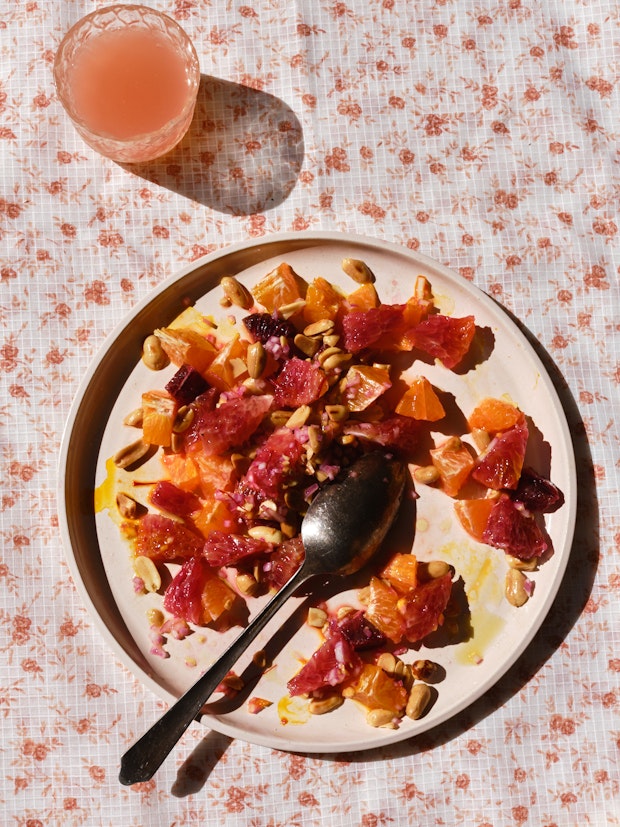 My favorite citrus salad
I love this salad. It has a mix of citrus wedges, peanuts, red onions, a few strands of saffron and almond extract along with a good olive oil. The recipe is inside Super natural simple which will come out next month. There is more information (and lots of good soups and salads) Here.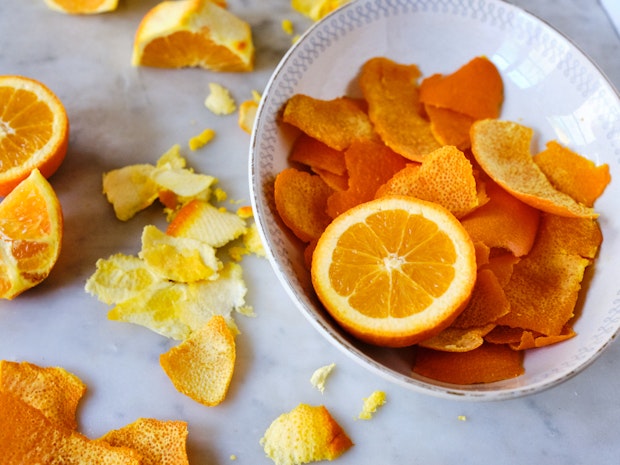 How to peel citrus fruits efficiently
Ok, let's talk about citrus peel. A lot was happening this week. Peeling citrus fruits is not a quick task. Know that it is coming in and you will have a lot more fun. Basically I have three moves (see below). 1. Start with clean, dry citrus fruits and slice them top to bottom into large plates. Some peelers work well at this stage, but I often only use a knife. 2. Cut off all the bitter pith. To do this, hold the peel flat against the cutting board and cut away from yourself. 3. Scrape the remaining pith from the peel with the blunt or "inverted" side of a knife.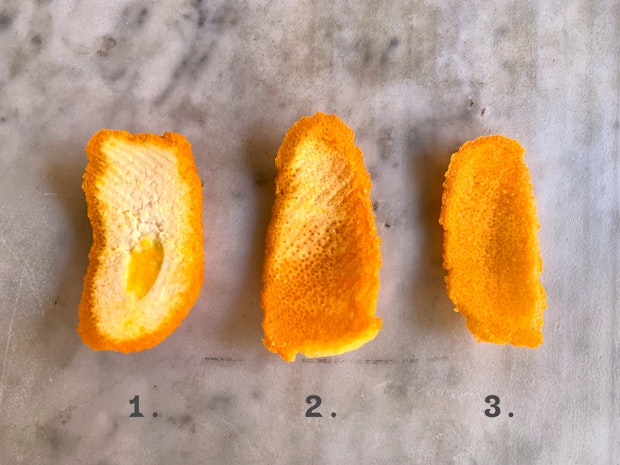 And the juice?
A lot of peel means a lot of juice. Sometimes we drink it or use it in the next few days. But, if you freeze the juice in ice cube trays, you end up with easy-defrost servings to use for dressing, slushes, soups, curries – pretty much any place you can imagine a citrus sun boost!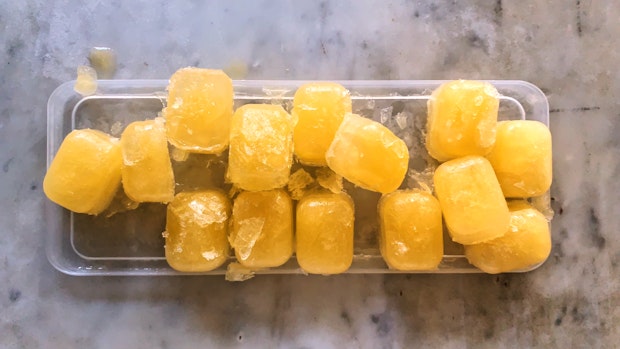 So many ways to use citrus peel paste
Citrus peel pastes are explosions with a fragrant flavor. You can make them as simple or complex as you wish. I tend to keep mine pretty simple, but I love adding garlic – quite a bit. You could add spice blends, mix citrus, you could use other oils instead of olive oil, etc. Here's how I put them to use after preparing them:
Orange citrus and garlic paste (recipe below) is super garlicky and it was amazing combined with a good amount of cayenne pepper, water and coconut milk to make a nice broth for the soba noodles – season with more salt to taste to make it perfect. I also spooned my chana masala at lunchtime and loved the way it lit everything up. It was also incredibly good spread over a bowl of this Fire Broth Noodle Soup. And finally, I used it as a final accent on roasted vegetable tacos (cauliflower and mushrooms) on homemade corn tortillas. The orange and garlic citrus paste is pictured below.
Meyer Lemon & Garlic Citrus Paste (recipe below) it was perfect topped with a bowl of stir-fried golden browns artichoke hearts. The next day I threw a generous amount of citrus pasta with hot tagliolini, extra virgin olive oil, water for the pasta, many of shallots, some torn mozzarella, herbs and broccoli – so good! And it was the perfect spread on top of a simple buckwheat and gruyere crepe the other night.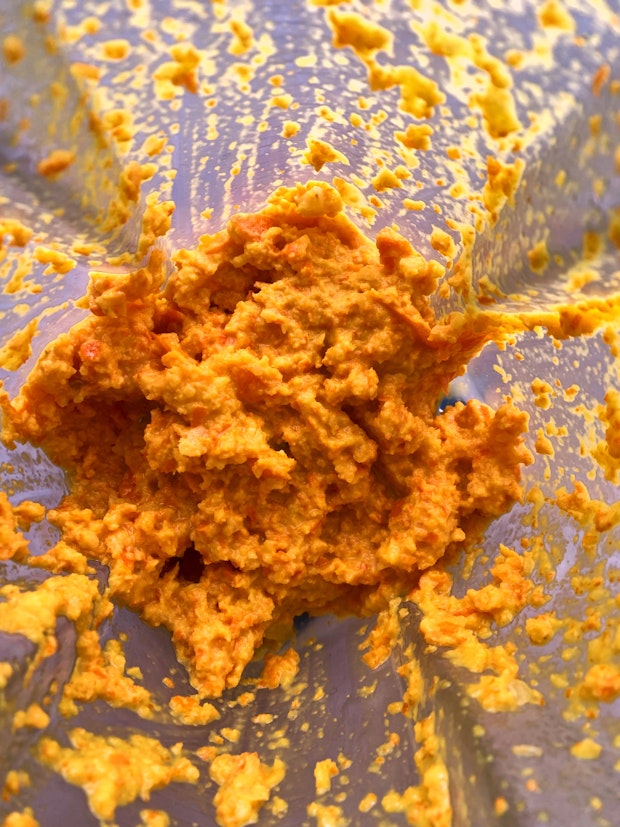 Citrus peel syrups without heat
Heating the fruit changes the flavor profile. As I said above, I love the raw intensity and clarity that resonates through the citrus peel syrups. Obtained by patiently massaging the citrus peel with sugar and letting it macerate, it is poured and finished with an intense and full-bodied syrup to be used in countless ways. A favorite this week was an easy-to-drink dark rum cocktail made with a splash of orange syrup, a shot of dark rum, shaken with tons of ice and topped with pampelmousse La Croix and a kiss of lime juice. .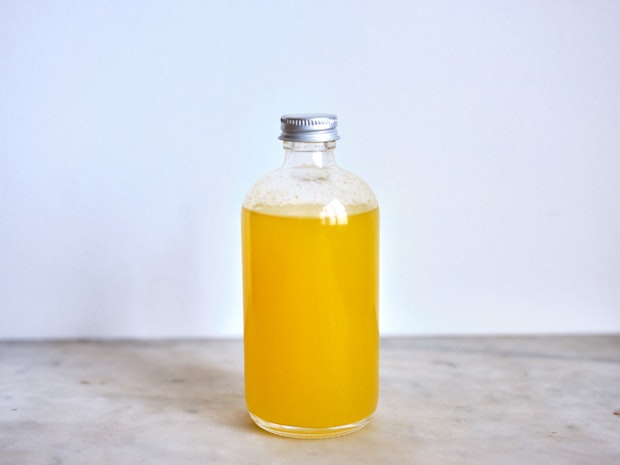 Cookbooks focused on citrus recipes
Citri – I love this little 60 page cookbook by Loria Stern. I have met Loria and her beautiful creations several times since I moved to Los Angeles (thanks to Jessica & Joanna), and made sure I did Citri at the perfect moment: the citrus high season. It's a citrus love letter with 25 brilliant and brilliant recipes.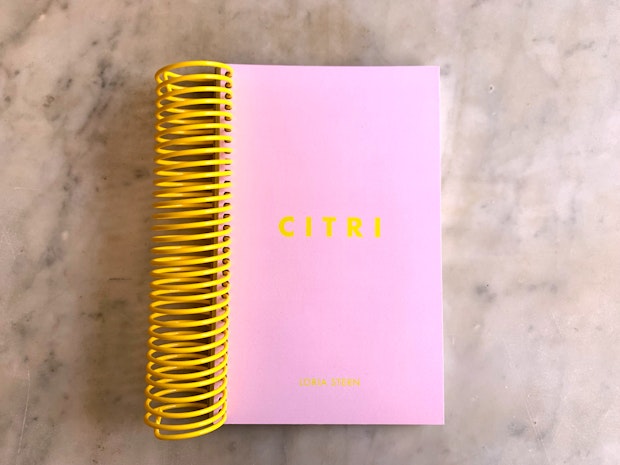 Also, take a look Citrus fruits: sweet and savory recipes kissed by the sun by Valerie Aikman-Smith and Victoria Pearson, Pucker: a cookbook for citrus lovers by Gwendolyn Richards and also Citrus fruits: 150 recipes to celebrate sweet and bitter by Catherine Phipps.
More citrus recipes from the archives
There are many citrus-centric recipes in the 101 archives and I will include them in related searches below, but these two recipes have been exceptionally popular over the years. A few years ago, I also hooked up with a bunch of awesome ones winter citrus recipes Here.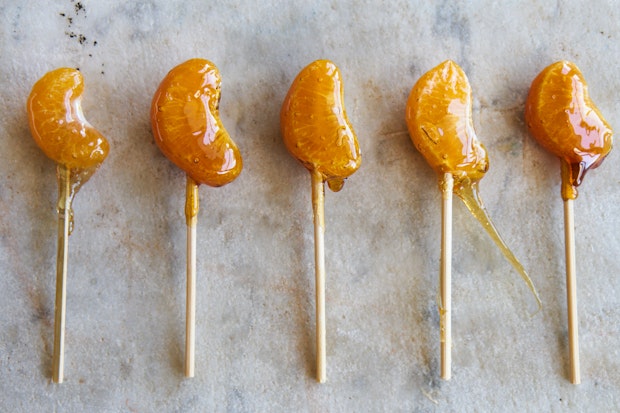 Candied Citrus Lollipops: Two-ingredient magic. Fleshy and juicy citrus wedges covered in thin, crunchy sugar shells. They are the perfect and delicious dessert.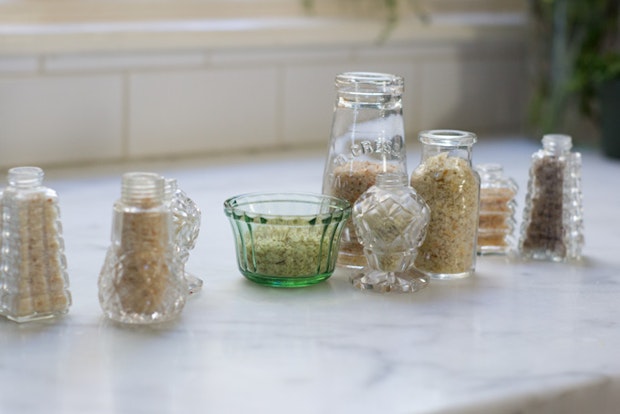 A spectrum of citrus salts: Citrus salts obtained from all types of winter citrus peel: clementines, wild lime, Meyer lemon, kalamansi oranges and mandarinquats. It couldn't be simpler.
Let me know your favorite citrus-centric recipes and resources. And in the meantime, I hope you find some inspiration here, especially with citrus peel pastes. To enjoy! -h